Customized solutions, better diagnostics
Services
Back to overview
IonBench MS benches
Diagnotix • •• can offer you IonBench MS benches with which you can significantly improve the working conditions around your MS system.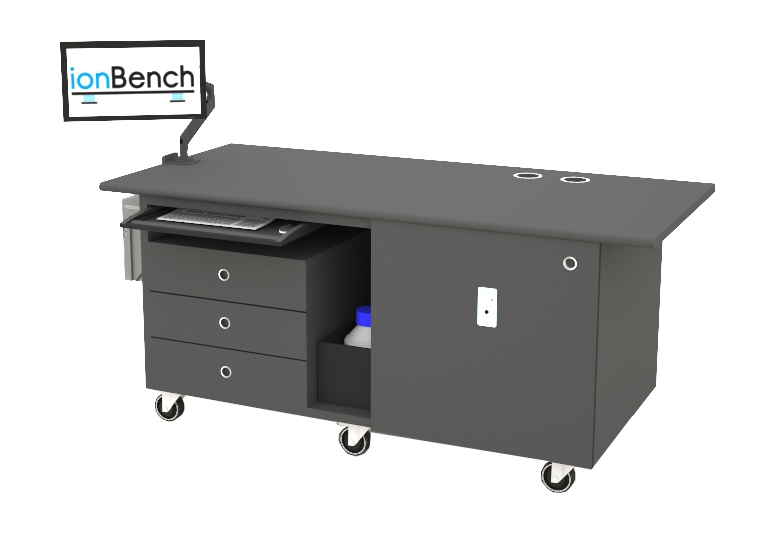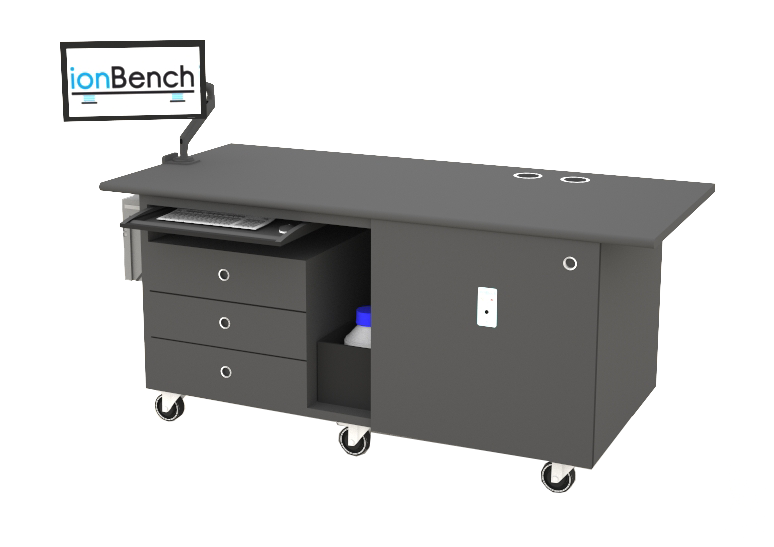 IonBench® products are designed to ease the day to day use of your LC/GC/ICP/MS, by providing a significant number of features that makes your working conditions better:
A total solution for lack of working space on suitable MS benches;
Quieter environment with an integrated noise reduction enclosure, including cooling system based on silent fan technology and with an overheating temperature alarm (audible & visual, on a battery back-up);
Increased accessibility with a fully movable Mass Spectrometer bench;
Vacuum pumps stored on a specific patented absorbing vibration rack;
Better ergonomics and security in labs, by using a bench designed for your application taking into consideration your specific requirements! (Electricity, monitor arm, solvent storage…)
ionBench® are compatible with all major Mass Spectrometry brands, such as Agilent, Bruker, Jeol, Leco, Perkin Elmer, Sciex, Shimadzu, Thermo Fisher Scientific, Waters.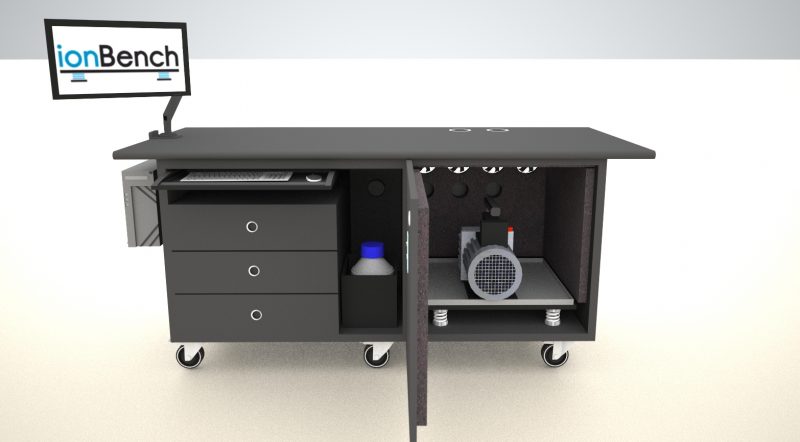 Product Overview
Fully movable Mass Spectrometer Bench with 7x solidly built lockable casters;
Integrated noise reduction enclosure for accommodating vacuum pumps;
Patented dampening system to prevent vibrations being transmitted to the Mass Spectrometer;
Audible & visual overheating temperature alarm;
Quick & easy oil change procedure;
Tubing & cabling management;
Dedicated place for the solvent storage
Dimensions
Width: 190 cm / 74.80 in
Depth: 88 cm / 34.64 in
Height: 86 cm / 33.9 in
Weight: 200 kg / 441 lb
Weight capacity: up to 500 kg / 1110 lb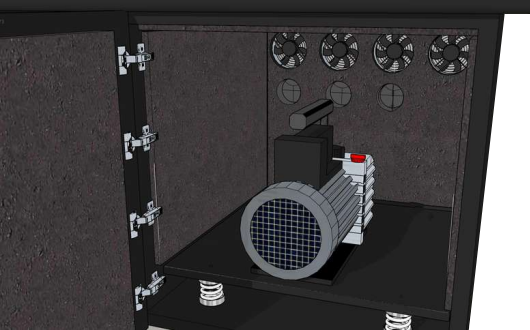 Noise Enclosure for Vacuum Pumps
Noise reduction performance : -15 db(A) (80% reduction in noise perception);
Compatible with one, two or more vacuum pumps;
Silent technology cooling fans (110/220 V, 50/60 hz);
Thick special acoustic foam around the interior of the cabinet;
All requirements related to safety are considered in the design [ventilated enclosure by double ball bearing fans, use of non flammable materials (class 1 rated), and use of heat resistant materials];
Noise reduction cabinet integrates an audible & visual (red LED) overheating temperature alarm (with battery backup) for an increased vacuum pump lifetime.
Overheating Alarm Temperature
In case of air intake or air exhaust obstruction, the air inside the noise enclosure could exceed the limits set by vacuum pump manufacturers for best performance. With this sensor, if the temperature goes above an acceptable limit, the alarm will sound (a red led will come on and an audible continuous alarm
will start ~ 90 dB).
Alarm Test function: test switch button available to make sure batteries are charged and alarm is functional. When pushing the switch, the red led will come on and a continuous audible sound will start if the system is operating correctly.
Requires 2 x 1.5 AA Batteries - independent from noise enclosure main power supply.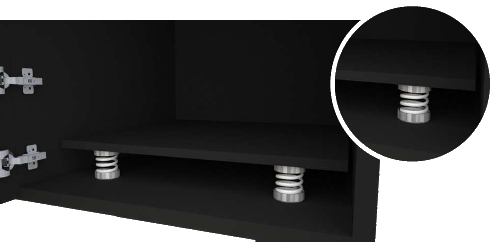 Vibration Dampening
One issue that is not addressed by conventional lab benching for mass spectrometers is the vibration transmitted by the vacuum pump to the mass spectrometer. Excessive vibration affects the performance and lifetime of turbomolecular pumps inside the mass spectrometer, and thus reduces performance
which can lead to costly repairs. The IonBench solution is to apply patented coil spring-based vibration dampeners which reduce vibrations by 99%. The design of the system prevents vibrations being transmitted from the primary vacuum pumps to the Mass Spectrometer (especially to the Turbomolecular pump inside the MS).
Calibrated springs are matched to your vacuum pump configuration (rotation speed, frequency and weight).
Optional oil drip steel tray can be provided for each vacuum pump.

Click here to request a custom quote
Options
Three drawers
Retractable tray for keyboard and mouse
Adjustable mounting for an LCD screen or Articulated display arm including keyboard tray
PC holder
Solvent waste storage (internal or external)
Stainless steel oil drip pan
Oil drain pump or Oil drain kit (including pump adapter, valve, quick connector, 30 cm pipe, glue, teflon roll)
Heat removal module
Lateral solvent waste storage
Electric plug, 8x EU (or US, UK, CH, DE)
Cable tray management, 6x
Standard color dark grey (anthracite), optional light grey
16mm Trespa TopLab chemically resistant worktop
Sliding tray for vacuum pumps
Automatic overheating door opening
Gas bottle fixing system
Click here for an IonBench product flyer
Interested in our products?
Do you have a question, want more information about a product or service or would like to place an order? We are here to help you.