Customized solutions, better diagnostics
LCMS - Vitamin B1 & B6
Vitamin B1 & B6 reagents set
SKU: 1020 KIT M VB1B6
The Vitamin B1 & B6 reagents set from diagnotix • •• is based on Waters' published TCA method – market leader in mass spectrometry.
For the required preparation before using this set only the internal standard (deuterated vitamin B1 and deuterated vitamin B6) has to be added and deproteinization executed, after which both vitamins can be measured simultaneously within two minutes.

This way a successful outcome can be guaranteed with minimal effort at very reasonable costs.

To prevent pollution of the LC-MS the deproteinization is being carried with a low TCA-concentration. Thanks to an extra additive the TCA-concentration has been successfully reduced to around 5% instead of the usual 20%.
The accuracy of the test is guaranteed with a 6-point calibration based on hemolysate. So, the matrix of samples can be simulated as much as possible. To continuously guarantee the quality of the test, it is possible to provide a 3-level control with this same matrix.
Markers stated in the SKML surveys are recovered accurately.


Product benefits
6-point calibrator based on hemolysate
Internal standard with deuterium labeled vitamin B1 and B6
Deproteinization with low TCA concentrates
Clinical relevance
Vitamin B1 and B6 levels are a measurement of the state of vitamin balance in a body.

Vitamin B1 plays a part in the nervous system and the functioning of the cardiac muscle. A shortage can lead to thiamin deficiency, or Beriberi, which causes problems in the nervous system. A chronic deficiency of vitamin B1 can also lead to Wernicke-Korsakoff syndrome and mental disorders including dementia and memory loss.

Vitamin B6 is involved in the metabolism of proteins, fats and glucose and, like vitamin B1, plays a role in the nervous system. A shortage can cause neurological symptoms such as inflammation of the skin or tongue. An increased level can also lead to (irreversible) neurological problems.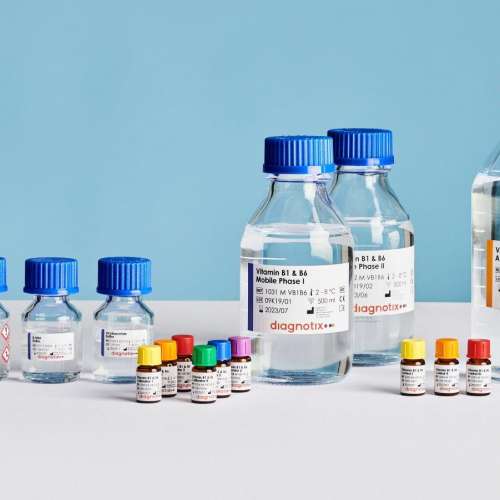 Geïnteresseerd in deze kit?
Neem contact op
See also
Technical data
| | |
| --- | --- |
| Analysemethode | LC-MS |
| Aantal bepalingen | 300 |
| Parameter | Vitamin B1 and Vitamin B6 |
| Analysis time | 2 min. |
| Limit of quantification | 1.1. µg/l - 1.4 µg/l |
| Linearity | min. 250 µg/l |
| Column Temperature | Approx. 25 °C |
| Flow rate | 0.7 ml/min |
Geïnteresseerd in deze kit?
Neem contact op
More info?
Contact us for more information about this product using the contact form or the contact information below.